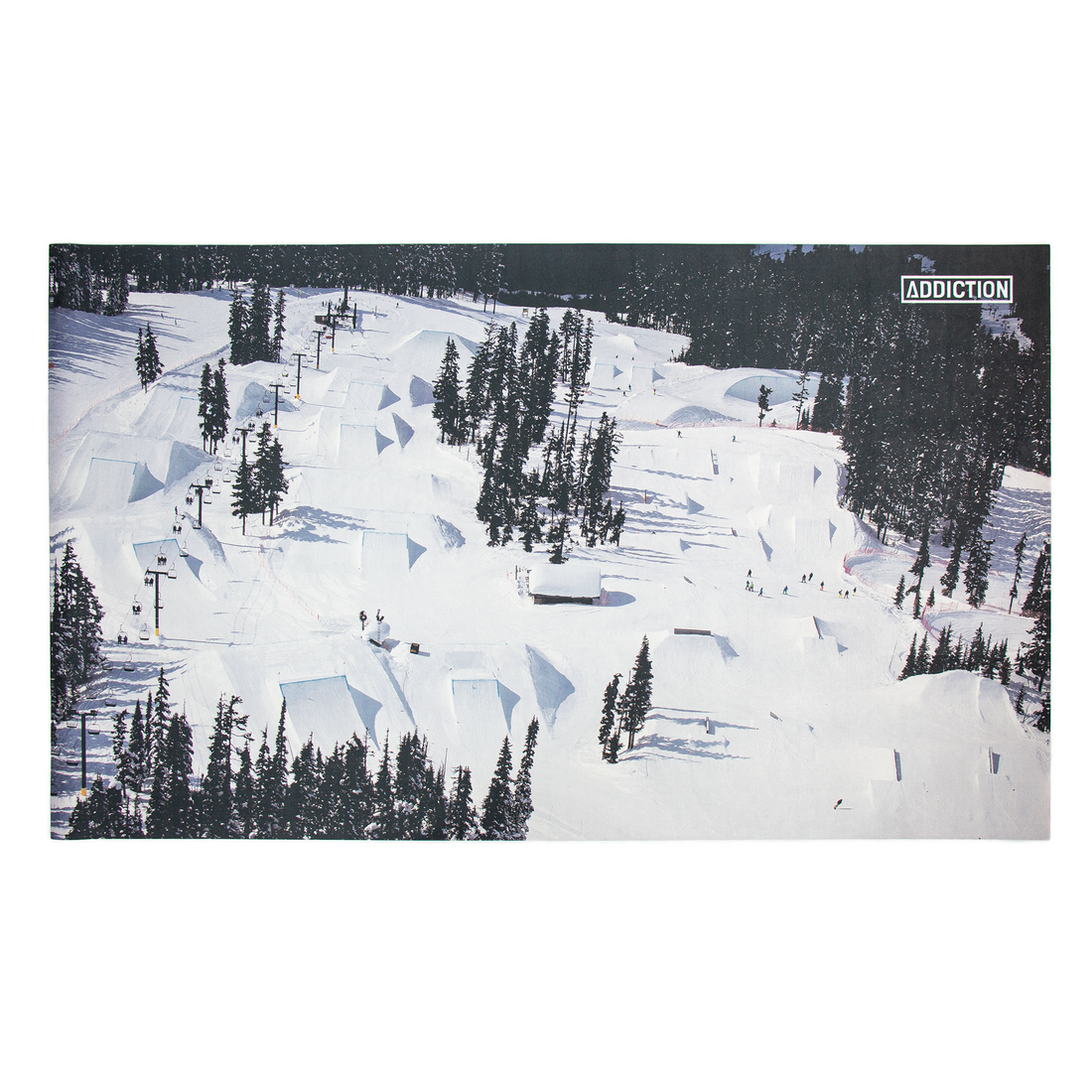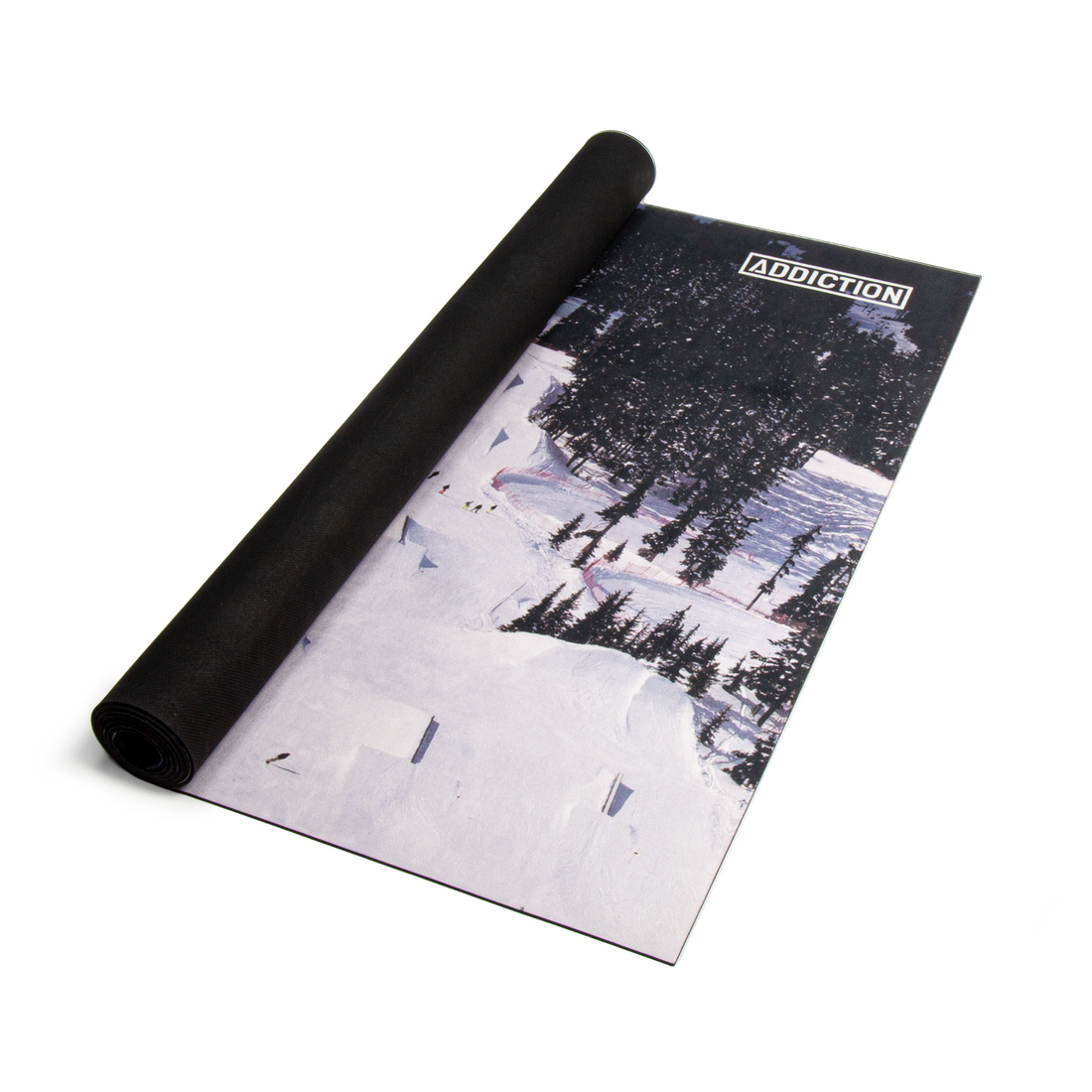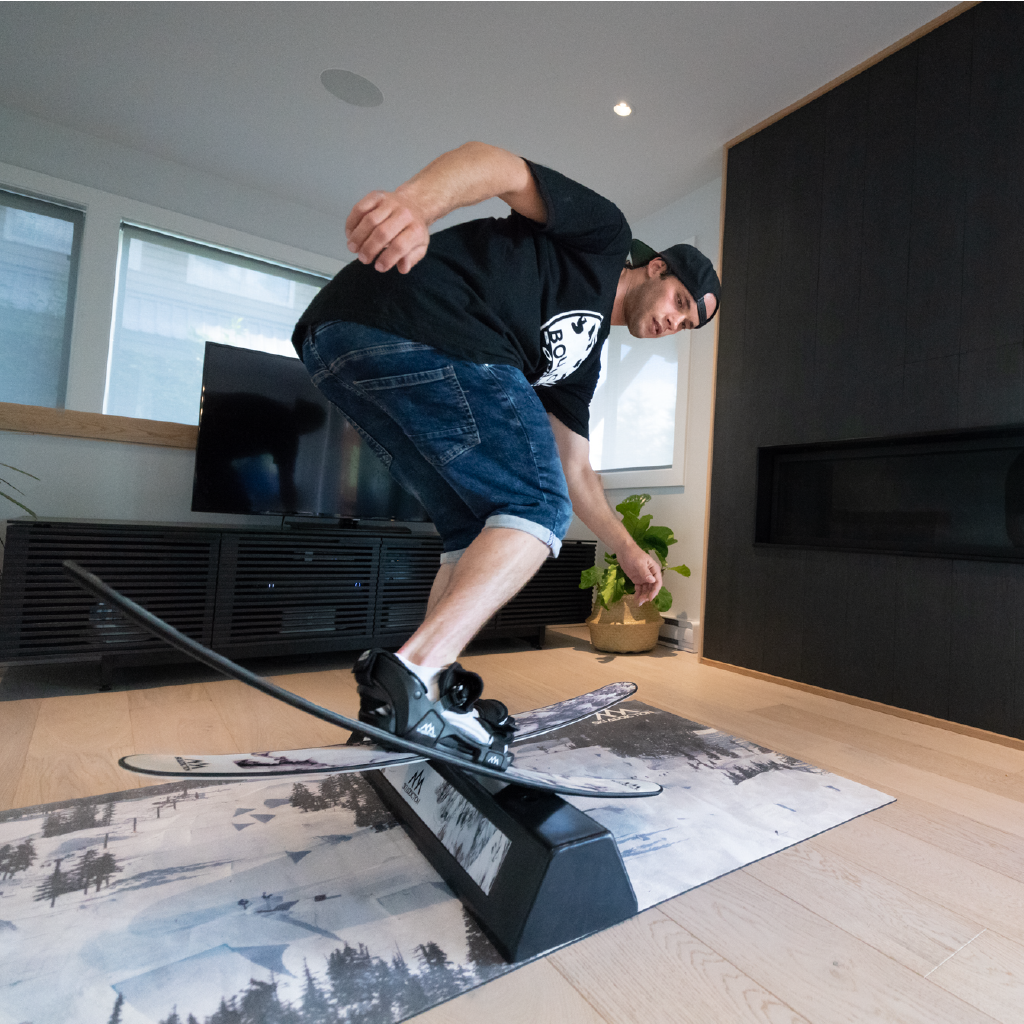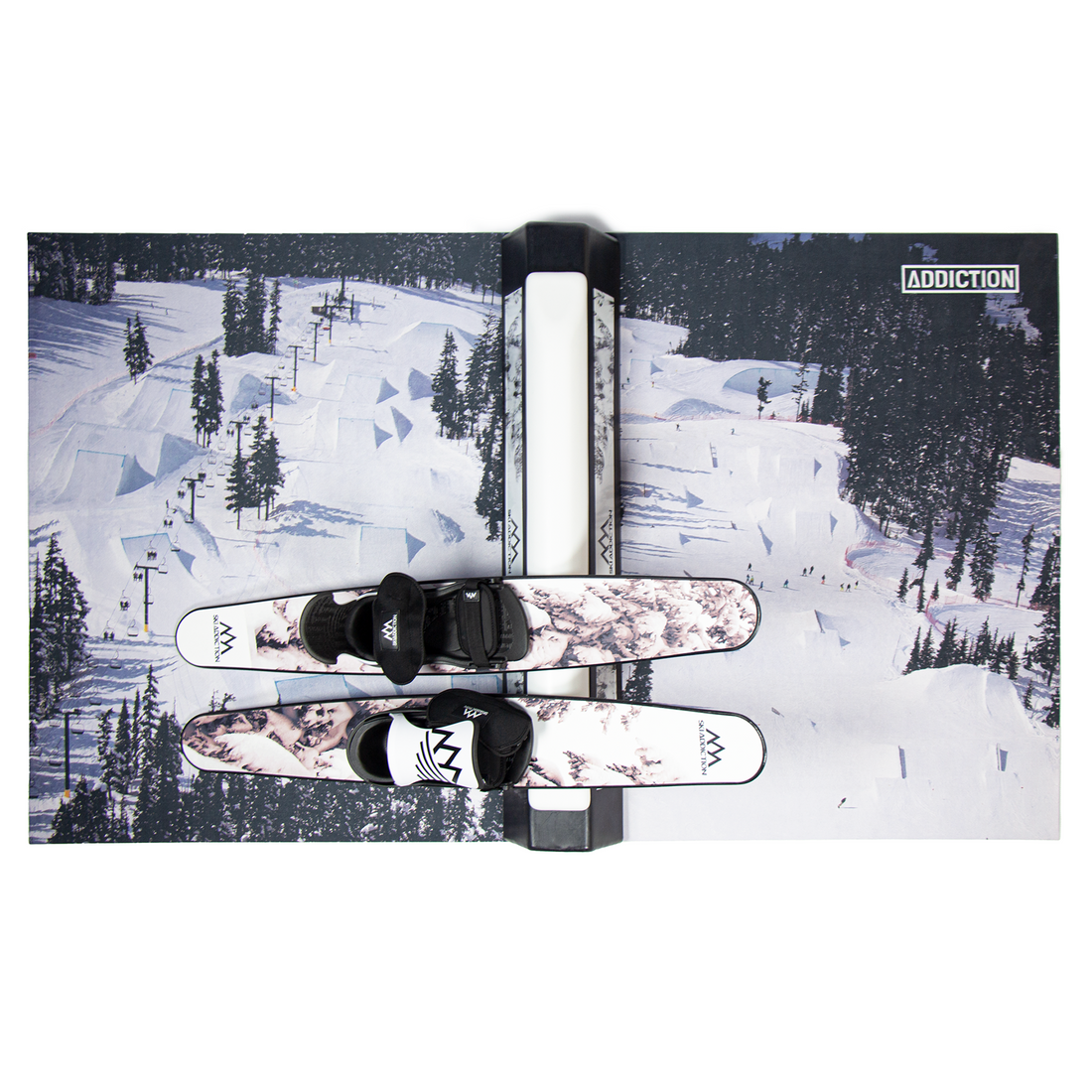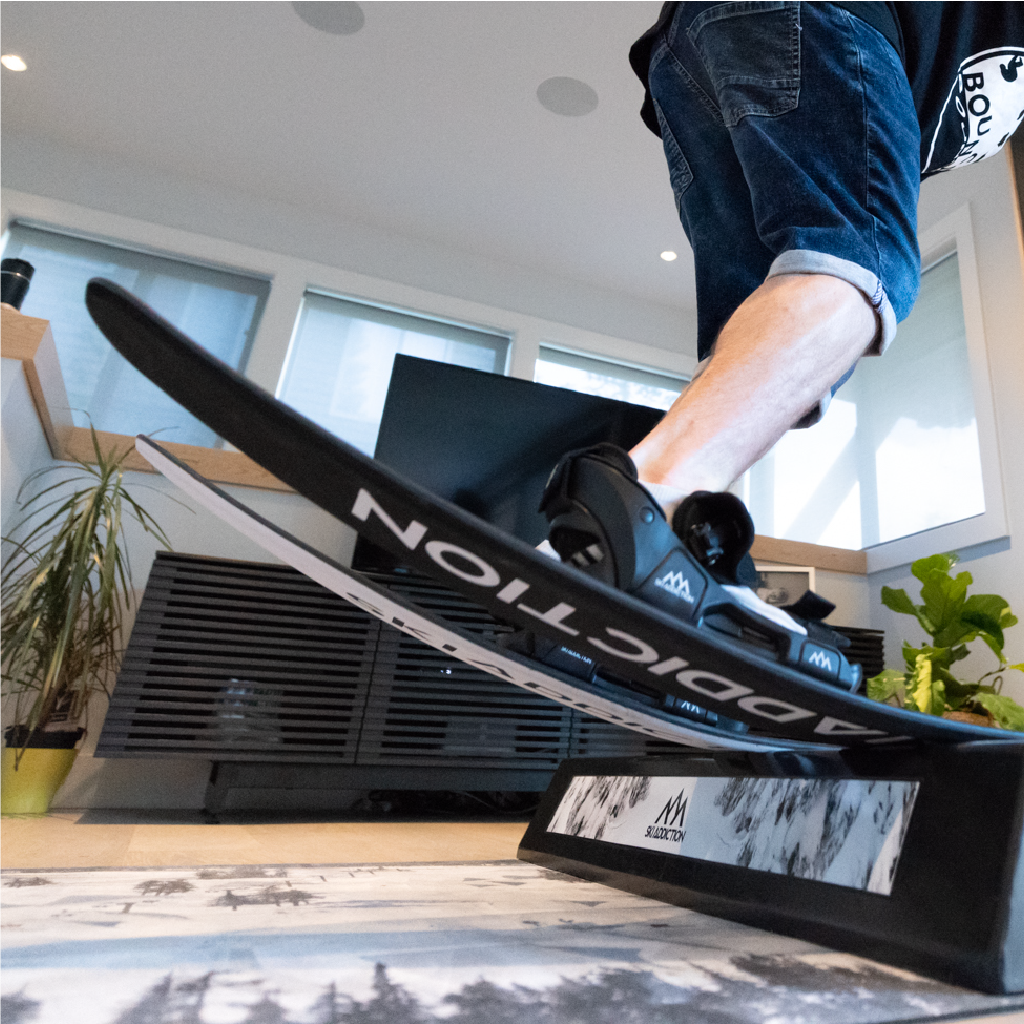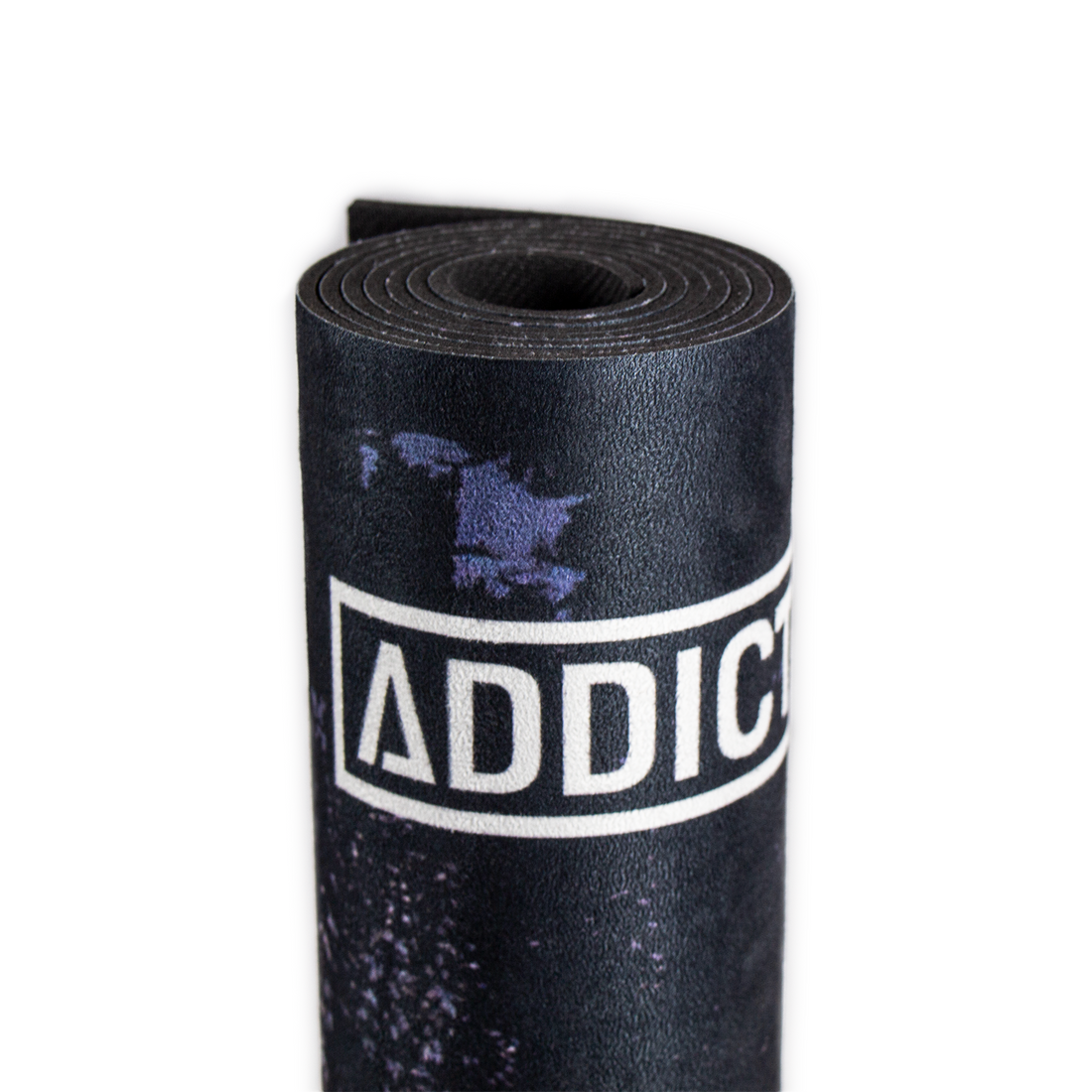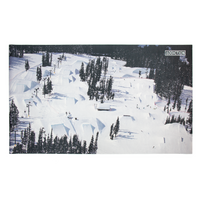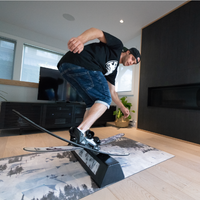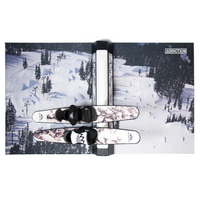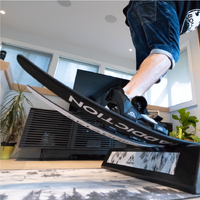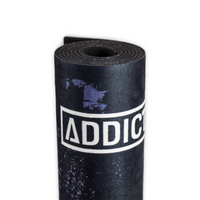 USA - In Stock
Canada - In Stock
Europe - In Stock
We've designed the best ski training/sound dampening/slam cushioning/yoga/camping mat on the planet!
Bindings - One Size Fits All:

Maximum: Adult Mens US 12
Minimum: Kids Size US 2
(Kids wear shoes in the bindings)

Tramp Skis:

Under 100kg (220lbs)
Ages: No Age Restrictions (Kids - Adults) 
Dimensions: 100cm ( 39.37 inches) Long x 14.3cm ( 5.63 inches) Wide x 1.5cm ( 0.59 inches) Tall  
Weight:

 

4.5kg (10 lbs)

Mounting System

The Training Ski's use the universal four hole binding system, locking them tight in the ideal position.

Profile

Manufactured with a reverse camber, the skis have a natural bend, allowing them to flex with the tramp and provide a realistic ski jump feel.

We made the ski length shorter too so that you get maximum pop on the tramp, with no dampening.

Smooth Sidewall Construction

Along the perimeter of the Tramp Ski is a smooth and rounded sidewall, to prevent damage to any environment.

EVA High Density Grip

The Tramp Ski base is covered with 1cm of high density foam to ensure you get maximum grip on any surface. Get the grip on the trampoline to learn spins, flips and corks. Get the grip on the Jib bar to learn new jib tricks.

Flex

With a moderate flex rating, the Tramp Skis provide a user friendly experience through all ages on a trampoline.

Safe Guard

Designed for the most convenient training experience, the Training Bindings are equipped with a quick entry buckle and ladder system, plus velcro toe straps for ease of use.

Durability

Manufactured with the highest quality parts we could get our feet on. The result is a binding that lets you throw down in training without worrying about your equipment breaking. 

Comfort

Our footbeds are made with a high density EVA foam surrounding the entire inside framework of the binding. This provides comfort from any angle.
This product ships worlwide
Free shipping for USA!
For more information on Shipping and Availability, please visit our Shipping Page.
Do the Skis come in different sizes?
Our Tramp Skis and Training Bindings are one size fits all. The Bindings are adjustable to accommodate most foot sizes. If your toes overhang a little, it shouldn't impact your training. 
How do you remove the highbacks from the bindings?

The addition of highback was requested by pro athletes, who we sponsor, to improve the support. We would recommend keeping the highbacks on. If you find them not useful, they are removable. The following video will show you how to remove them:
https://www.youtube.com/watch?v=n4T7Ld-OdBM
Are the Skis realistic?

Almost as realistic as being strapped into your own skis. With your own ski your ankles are locked in, but on a trampoline you need to move your ankles in order to jump higher and give you more air time. Once you're in the air, you won't be able to tell the difference.
What kind of warranty do you offer on your products?

All answers to warranty questions are available on the Ski Addiction Warranty Program page.
Do you have a shipping question?

All questions to your shipping questions are answered on our Shipping page. 
A Better Experience For Everyone...
It's the perfect training partner to cushion your falls, reduce the noise and give you the grip to throw greasy spins onto and off the Jib Bar.
Learn more below!
The Nitty Gritty...
XL Sizing For XL Training
Regular sizing just isn't enough. This double wide mat allows you to throw down safe in the knowledge you'll have a cushioned landing.
The Mountains In Your Living Room
The inspiration of this image comes from "Black Park" in Snowboard Addiction's home resort, Whistler Blackcomb.
Train Anywhere, Anytime
The key to a good training routine is being able to practice on the move.
From the living room to a lakeside dock, protect your Tramp Skis by laying down your mat!